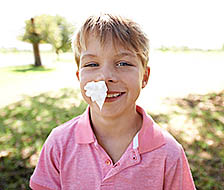 You might have noticed huge amounts of images being removed from micro subscription sites such as Shutterstock.com, Fotolia.com, Dreamstime.com etc.
You might also have noticed that Shutterstock's stock have dropped more than 12% over the past week. Link.
Perhaps you have also seen the public statement that GettyImages made about Yuri Arcurs and PeopleImages.com going exclusive with Getty/Istock and removing close to 100'000 images from competitors (Shutterstock, Fotolia, Dreamstime, etc)
And if you keep a really close eye on this industry, you might have noticed that on the same day as the Getty announcement (July 16th), I also revealed my involvement in Scoopshot.com through a 1.4mil USD engle investment at a press conference in London. You can read more about it on techcrunch.
To sum up: In one day, microstock saw a public release confirming that Yuri Arcurs (me) and all our 20 photographers (7 of which are on the top 10 in the world) and our entire peopleimages.com production house, would leave and move all images to Istock/Getty. They witnessed an otherwise underestimated industry (mobile photography, scoopshot.com) being granted a seal of trust in a 1.2mil USD investment. Furthermore, and perhaps the most interesting part: most of us would have been in the belief that sites like Shutterstock, Fotolia and others where the disruptive industry, now have to consider if they are in fact being disrupted themselves, by mobile photography.
Holy cow, what a week.
If you are interested in stocks and follow them, you will find it interesting to observe what happened on the morning on July 16-18 to the shutterstocks stocks evaluation. https://www.google.co.uk/finance?cid=289500696993722
Time for an update
When major business changes are in play, I unfortunately have to be quiet about my involvement until public or commonly known. The amount of speculation expressed on forums and blogs about what actually was going on has not been silent. I tried to read through most of it today, but had to stop after a few hours. I know a response is long overdue, so here comes.
GettyImages and Yuri Arcurs
For a maturing photographer microstock is a great learning platform, but if you mistake "school" for "workplace", you are in trouble. I did so for years.
I would estimate that for the last three years I tried very hard to convince myself that microstock was in fact the right place for the professional photographer. After all, my photography carrier was born here. Perhaps exactly because of that, I tried so hard to disregard a growing mismatch between microstock and myself, in product refinement, sophistication and budget. As we grew in skills, as our company grew, our distribution partners in microstock did not. Some agencies where ok, but in total, as a mass and as a workplace, the picture was not nice. Sometimes it felt like having a michelin restaurant inside a burger joint and at the same time having to match the prices. At some point the professional gets tired of selling 12 course testing menues at 0300AM at burger prices.
I tried everything I could for three years to inspire our microstock partners to close the gab. I submitted plans, did projection forecasts, showcased examples that worked, presented solutions and had literally hundreds of meetings. I tried every kind of approach I could think of to get the micro agencies to raise prices just a bit and leave place for the kind of photographer both photographers and customers love. I spent literally months in airplanes. No Luck.
Thinking back I must admit, that my chances where low: when 20% of the CEOs where sleeping in the sun, 20% had no clue what the industry was actually about, 15% thought that the only food customers needed was burgers and if they did not eat it for breakfast we just needed to convince them. The 45% rest where paralyzed by the initial success and for all means did not want the change anything.
In joining forces with GettyImages/IstockPhoto we where surprised to find that pretty much all the concerns we had as professional content providers where either already taken care of, or part of upcoming releases. If not, they would be now. The corporate culture at GettyImages and their ambition of constant product refinement was a perfect match with ours. And this is not to say that we don't want to shoot "junk food" anymore, but simply that if we choose to do so, why not do it great with a partner that understands how to market it!  For the first time in a long 7 years, we where impressed by our partners.
Where am I taking PeopleImages.com?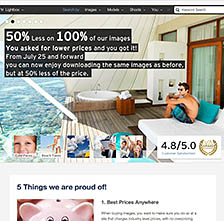 I have relaunched www.peopleimages.com in a v2.0 and we share our content with GettyImages/Istockphoto.
Now that we have removed our entire collection of images from microstock and subscription sites, PeopleImages.com will be the only site in the world with only exclusive images that can't be bought anywhere else. Since we have pulled our content from distribution partners, our net income from PeopleImages.com has increased with almost 100% per month. The main objective is to address the customer feedback I have collected over the years and create ingenious solutions to the problems they revealed. Problems such as how do I find a "normal looking" person and not overly "model looking" is solved by our looks selector in the model sidebar. If you come from Denmark for example, it is now possible to see what images other people from Denmark think look Danish, by using our country selector. You can drag and drop images into collections and collectively share and discuss them with your colleagues in a chat room like environment by clicking the lightbox. You can save searches you do a lot, you can create alerts for when new images arrive matching things you are interested in. You can request custom retouching on images to extend them, find that extra copy space and get it back in just hours, and as the only site in the world you can get all files in a PNG (transparent background) format. Notice that from all of the above mentioned features, there is not one site in the world that has ANY of these features. Not one. Furthermore, by cutting out the middleman we can keep the same prices but provide a whole new level of service. As of last month, our entire collection of images, now reaching 120'000, can only be found on our own site Peopleimages.com, GettyImages.com and Istockphoto.com.
Why did I invest in Scoopshot.com?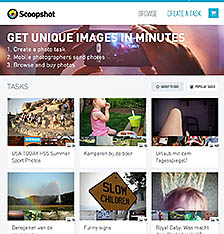 Early Tuesday Morning in London I had a press conference with the team from mobile press photography app Scoopshot. You can read about it here on techcrunch
About a year ago I did my first task on Scoopshot and when seeing the incoming images from mobile shooters around the world I had one of those jaw dropping experiences. They come rarely, trust me. There is nothing that can really match it, because you have never tried anything like it before. My first task was a simple one. I wanted to get images for a poster in our office showing the different moods of people. I requested photos of how people felt today and for them to express it in a photo of themselves. Less than 10 hours later i had more than 3300 images representing ALL countries in the world, and had to stop the task because too many images where coming in. Now remember, that we are talking 10 hours, not days, not weeks. The images are sorted by the submitters themselves, so good ones go higher. All you have to do is just sit and watch the show of incoming images. If you have the bucks to spend and do a global task, you are in for one of the most impressive experiences in your life as a photography professional. Immediately I knew what this would do to the stock photography industry as we know it today. It had a certain disruptive quality that microstock had back 5-6 years ago.
If somebody believes that technology Regardless of how you look at it, our withdrawal.."  redrawellike Scoopshot is not going to play a major role in how we acquire images in the future, there is just one thing to say. Try it yourself. Do a task. If you find yourself laughing, impressed, or sharing it with your friends…. Well, do no more…I rest my case…
Pulling almost 100'000 images from Microstock's 15mil Images. What's the impact actually?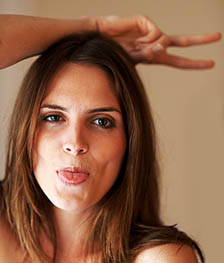 Regardless of how you look at it, our redrawel of images from microstock constitutes the first substantial setback in microstock history. Microstock was the underpricing disruptive competitor and has been racing forward since its birth in 2005, but now it loses momentum. Let's explore.
If we disregard non-images sales on micro sites, the withdrawal of our content, equals to a loss of total downloads in the range of 4-15% depending on the microstock site involved. Now consider why a subscriber to a microstock subscription plan should pay the same per month, if his favorite images are suddenly removed? If he paid 299 USD last month, why should he pay the same when now he/she can download less?
Another thing to consider is, that if industry leaders in sales (me – among others) decide to leave microstock, one has to ask why agencies that have otherwise been happily engaged with us for the last 6 years, somehow are not able to sustain their top content provider. Is it possible to answer this question without concluding that something must have been out of tune? Regardless of how you look at it, the management of the major microstock agencies involved have to answer this question to their boards. And they will.
Another matter to consider is that this announcement changes the balance of who is the mover and who is the follower. For 7 years, microstock has been the acting agent and the traditional agencies have been the re-acting agent. Now, during this past week, the subscription sites and microstock sites became the re-actors. This may not sound important to us photographers, but to investors this is crucial. They thought that Shutterstock and others where the disruptive and successful competitors to a traditional and outdated dinosaur.
Mobile photography. A serious threat to stock photography?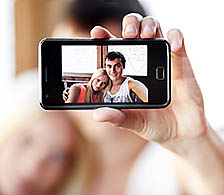 On that 16th July morning, Techcrunch, and a vast amount of news blogs, focussed mostly on the potential of a new technology (mobile photography, Scoopshot.com) as a serious competitor that could potentially disrupt the stock industry entirely… again. While such news and similar of its kind about the potential threat in mobile photography to stock photography has been somewhat rejected or undertoned in the past, this announcement arrived with a much more potent seriousness. Backed up with more than a 1.4mil USD investment from Yuri Arcurs Photography Denmark. Additionally, it was showcased in the press release that scoopshot had more than 300'000 mobile photographers ready to shoot for scoopshot.
If you dismissed mobile photography before, it would be hard to do so now.
So is this threat serious? Is mobile photography an actual threat to stock photography and press photography as we know it? I believe it is, and in saying so, we must remind ourselves what was said about microstock and subscription sites back in 2005. Nobody believed in microstock and their ability to compete as a professional solution to image partners against the giants such as GettyImages and Corbis at that time. Now look at the industry today. Was that assumption correct?
Back in 2005 I went directly against the mainstream assumption and put all my chips on microstock. And this next point is important for me. Because however the public perceives me, whatever the media writes and speculates about me (and it has not always been kind), it is impossible to debate that I did in fact invest my career, time, and later money on right stock. I believed fully in microstock at a time when it was very unrefined and very unstable at best. In those days nobody had heard of Istockphoto, and shutterstock was v1.0.
So why did I go all in on microstock back in 2005? Well, to me there was not a thread of doubt that the microstock agencies, the Shutterstock, Fotolia, Istockphoto, Dreamstime of those days would become massive. They were crowdsourced, they reacted to industry demands quickly, they were globally accessible and had lower prices. The competition however, had none of these qualities.
Now consider mobile photography. At it's current stage it already has more photographers than any one microstock stock agency in the world (more than 300'000), its reaction to customer demands is seconds from sending a request to first images arriving (much faster than microstock, where the shortest is around 4 weeks), it certainly has a lower price point and certainly is easier to access. Through your phone, anywhere. Now ask yourself; you know the history as well I do; why would mobile photography NOT be as big a threat to stock photography as microstock was 6 years ago?
I could say so much more, but words would be easy and not wise. Wise prevails.